Looking for effective Personal Brand Marketing strategies?
Personal Brand Marketing is one of the most important attribute for success.
Looking for marketing strategies proven to be the most effective for business growth?
Are you tired and frustrated with paying lots of efforts, time, and money on traditional and digital marketing, and still not finding a way out to success?
If yes, here is the complete solution. Hooked up till the end, will come up with a personalized sales funnel.
I hereby with the help of my digital mentor, Digital Deepak sir, giving you a full-fledged Marketing and personal branding plan.
It will help you to stay at the top of your own category and touch the sky.
Marketing in itself is a deep concept, we have to dig deep into the knowledge well, understand the concepts, put efforts to do practically, and then we learn.
Knowing and implementing are two different aspects. Implementation is one of the major steps you should take at the right time, and the right time is NOW.
Applying the right strategies at the right time will definitely give results.
Marketing and Personal brand Marketing :
I am going to clear the concept through many real-life experiences and facts in a very broad way, that's why the article will be a little lengthy but knowledgeable.
* Marketing is a science and Personal Brand is acknowledgment:
Marketing is getting connected to the brains, and seek attention, it includes sentiments, emotions and psychologies which in itself is a science. When we indulge emotions, sentiments in our campaigns we build a connection from one soul to another although we are still strangers.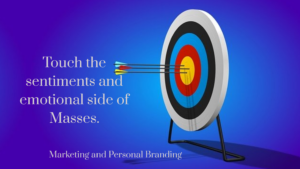 Sushant Singh Rajput demise is a big example that how he touches the souls through sentiments, and nowadays Fans can do anything to attain justice for him.
So, Emotions first create an acknowledgment of a person or brand, then the Marketing do its work psychologically.
One more example:
Advertisement for LIC Life insurance, the fear of losing due to death is clearly shown into the ad, which means firstly connect through emotions, and then do show your proposal connected to that emotion, and that in itself is a Brand acknowledgment.
Crux: Touch the sentiments and emotional side of Masses.
* Marketing and Branding Starts before the product is created :
Personal Brand Marketing always starts before the product has been created.
For example, when I jump into the literary field 4 years ago, I feel people need lots of healing, and spiritual knowledge, which I was practicing from the very early age of mine.
I started writing blogs on Speaking tree and posts on Facebook, then I feel the market need a product because I can't reach everyone everywhere to teach the spiritual laws and healing.
I created my two books at the same time one was "The Dream Manifester" and the other was "The mystic of twin flame relationship."
Marketing in itself started before the product has been launched.
"The Product in itself is a solution of Pain Problems of your Customers"
Crux: find the pain problem of customers and give the best solution to overcome that pain.
* Marketing Is sending the right message to the right person at the right time and create Brand Trust:
When your friend is in need and you helped him at that particular time when he needed you the most, then it builds an emotional connection and trust between you and your friend.
The same apply to Personal Brand Marketing.
Helping your customers at the right time they needed the most builds brand trust.
When I wrote my first book, I feel like there is a need in the society for the law of attraction and twin flame concepts in the context of Indian holy scriptures.
People were getting the point, but not able to connect with old perceptions and beliefs. There should be a connector who connects new age religion to Indian Holy scriptures.
People read our holy books, and they were not able to correlate the new age religion to their perceptions, and beliefs system which creates a negation and restriction in the subconscious. So, connecting the old belief system with a new belief through old perceptions was the solution to their pain point.
No one in India ever wrote about Twin Flame relationships earlier although they know this concept through Lord Shiva and Parvati, Lord Krishna, and Radha's unconditional love.
That was the right time to correlate holy and mythological concepts and new era concepts into one platform and then I wrote the book "The mystic of Twin Flame Relationship" to find solutions to masses.
As no one was there to write about it in India, I become only one in that category.
"When you come up with the right thing at the right time to solve the pain problems you create a brand"
The brand trust also builds up because you are the only one in a particular Niche. You go deep into a particular niche, dig the hidden secrets, and revealed that.
It builds a Brand Image and Brand Trust.
One of my book pages from "Live Love and Laugh book" gets viral when someone highlights the book lines In the Covid19 period.
The Lines were "all diseases generate from the mind," "we have all the power to fight any disease."
This book was published in October 2019, and the covid in India come in March 2020.
Hence, it was the right time, people were searching out of coronavirus relief and a post pop up to generate inner cell power and immunity to fight any disease and helped many people.
Even I sent the free books to many COVID Patients, so that, they create positive powers into their cells to recover.
The product then fits into the need of the customer, helping them to clear out their clutter, healed them, give them power, and suggested the right path which in itself is Brand Marketing.
Crux: Pop up at the right time to the right people.
*Satisfaction of existing customers, Product Quality builds Mass Trust:
Content is a king for bloggers, in the same way, your high-quality product is a king in the market.
If the product is of good quality with good customer service, it will create trust in the eyes of consumers.
The good quality will create a Word of mouth Marketing which builds a long chain of trust consecutively builds Mass Trust among the societies and tribe.
For Example:
I am using IFB Front-load Washing machine for many years, in my new machine my front door broke due to my maid mishandling.
The fault was from our side, but the company replaced it for free as it was in 5 yrs warranty period.
The little same incident happened with an Apple iPhone of my husband and the swap system of Apple iPhone builds a strong connection between the customer and the brand.
"The good product along with good customer service generates a trust which spreads into masses"
One of my book, "The Dream Manifester" , managed to be on no.1 Bestseller list due to marketing tactics.
But some of my readers reviewed it on my personal message the book contains lots of grammatical errors.
Hence, the product was of bad quality and to save the trust of my readers I immediately discard all my marketing ventures of that book and stop its presentation, so that readers get a good quality and right solutions to solve their problems.
Hence, a poor-quality product can sell good, but it will be a one-time purchase and destroy your trust, hence in the long run, you will lose the customer.
Mass Trust:
Not only quality but to make existing customer satisfaction is also a strong mass trust generating factor.
Readers read my old books, get satisfied with that, get replies of all their queries through emails and messages.
It creates a bond between my readers and me.
They create a market of Word of Mouth that's why when I launched my next book, it comes into the bestseller list in the very first week.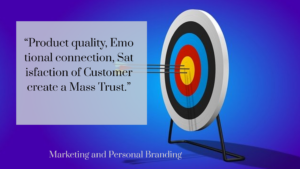 Also, those who come from the world of mouth strengthen the affinity towards my brand and again they get satisfied with my product and become a faithful customer.
"Product quality, Emotional connection, Satisfaction of Customer create a Mass Trust."
Crux: The existing happy customers will stay with you in your next venture.
After knowing about the importance of effective Personal Brand Marketing let us consider both marketing prospects:
Traditional Marketing vs Digital Marketing
Being into digital marketing, I personally observed many pros and cons of both Traditional and Digital marketing.
Keeping the topic short just giving a live example to clear the topic well.
One of my best friends, Dr. Sanjeev Juneja started his venture of KESH KING Oil in 2009, That time we all don't know much about digital marketing, the product was very generic, a wide number of users can use it. Even the secret is we all don't have any Facebook account yet at that time.
What we discussed and observed that he is an Entrepreneur learn marketing tactics, visited the shop to shop to sell his product, place all his earnings into traditional marketing, TV ads, Radio ads, Banners, posters, flyers, newspaper ads although it costs millions, whatever can be done to do marketing traditionally, he did and he managed to sell the Kesh King at Rs 1651 crores to Kolkata based Emami brand in 2015.
Furthermore, he launched Dr. Ortho, Pet Saffa, Roop Mantra like many brands and get the combination of both Traditional and Digital Marketing which leads the brand to get recognition in just one year.
In the other case he has a product list of Mother Sparsh which are baby products and targeted to a particular Category market, he opted for only digital marketing which is also doing very well.
Dr. Juneja added direct response marketing as a prime strategy in his marketing campaigns.
He gives free offers, free products with the main product and sometimes buy1 get 1 free.
It means calling for action.
These campaigns and offers were of short period, limited time which create a scarcity pressure on buyers to buy as soon as possible.
He offered free consultation for hair care also so that people's content creates trust.
So the conclusion here is,
We can't deny the power of traditional marketing as well.
The Coronavirus pandemic definitely affects the reach of traditional marketing but it still affects millions of Indians.
For a generic product, people still buy newspapers, magazines, people still see news channels and traditional marketing plays its role very well.
Although getting featured on TV or Newspaper is a bit costly affair nowadays.
On the other perspective, India is moving Digitally,
In an Article by Financial express, Apple sees a 78% growth in sales of Apple iPhone amidst Coronavirus pandemic.
It shows people choose digital than any other traditional ways of reading and grabbing information.
So Digital Marketing will be an all-time boom.
Digital Marketing is an efficient way to develop personal brands, connect to their customers. You can represent yourself through Instagram reels, Youtube videos, also Tweets, podcasts, there are millions of ways to get connected to users.
Digital Marketing use Bots to retarget the audience, which is very much tough in traditional marketing.
Communication skills are the backbone of Personal Brand Marketing:
Communication skills are as important as the other things in Marketing.
Let me give you an example, I am a banker when I first joined the bank, my posting was in a rural area.
I studied in an English medium school and just know two languages Hindi as my native language and English with no fluency.
Their people speak in rural Haryanvi Language; it seems tough to convey your thoughts but slowly I learn a little bit of Haryanvi and Punjabi language to speak.
Yes, to be fluent in any language, takes time. You can convey messages when you talk to them in the same way they understand.
When I learned the native language than old age people mostly came to me in the bank for their safe Fixed deposits and they just demanded and said, "call that Ma'am"
It was a pleasure to me to help them which nourished my soul.
Once 80 yrs aged uncle named "Bali Ram Ji" said I will make you nominee for my all Fixed deposits… Oh God! I stunned!
Hillarious it was,
The whole staff started laughing and I said uncle Ji I just need your Blessings.
This is the power of effective communication.
Another important factor in Communication is how you put sentiments and emotions while connecting to your customer. The more compassionate you are the more people derive towards you.
90% of people react through their emotions and 10% through their brain and when you combine both the good quality along with trust(emotion)or any other sentiment factor, the deal is already final then.
Crux: Efficient communicable connection with customers leads to more sales.
THE INTEGRATED DIGITAL MARKETING
THE INTEGRATED DIGITAL MARKETING AND PERSONAL BRAND MARKETING
Integrated digital marketing is, as it sounds, the integration of multiple marketing strategies to form an online approach for a particular brand.
"Integrated marketing is a method of engaging consumers with your company or brand that combines all parts of marketing communications to work together and assist the customer along their journey of awareness to loyalty and advocacy".
– The Data & Marketing Association, the world's largest trade association dedicated to advancing and protecting responsible data-driven marketing
 I hereby going to explain the most important factor of Marketing and personal branding,
I make this funnel innovative through whole personalized for Authors and Writers.
CATT FUNNEL PERSONALISED FOR AUTHORS
CATT FUNNEL is described by Deepak Kanakraju sir on Personal Brand Strategy to generate sales.
CATT is a sales funnel that will help you to build the mass trust of your customers with the help of Digital Marketing. The full form of CATT is Content, Attention, Trust, and Transaction.
The factors involved in this funnel is fully explained through this personal mind map.
I personally changed the CATT funnel as per my own 5 yrs experience in the Literary market
NICHE:
Niche is a category or a topic which includes these three points:
Talent: You have a talent for your particular brand along with experience and a very good knowledge.
Passion: When you are passionate about your brand and whatever product or service you are giving, it creates a strong base to stay persistent for a long period of time.

Market: I am telling you; market is most important thing to consider when it comes to a niche. A well competitive market has prospects to grow, because there is reach and market which leads to growth.

Here the Niche selected is: Self Help Author

PERSONAL BRANDING AND MASS TRUST
To generate a mass trust in the market, you have to be an authentic and humble.
A humble person is always ready to help and support those who are in need.
You can start blogging, writing articles, make you tube videos to make an impact on people's life in your particular niche.
you can counsel for free in your early career stage and teach people collectively make you a mentor in your own niche.  You should have Meaningful interactions and relationship-building with your users.  You should have Good attendance, creating a target-rich environment for lead generation
Continuous efforts to help others on a single niche will create a brand value along with trust
CONTENT FOR PERSONAL BRAND MARKETING
Content is the core of digital marketing, when you have a great piece of content then you don't have to struggle to spend much for marketing. It will itself bring you organic traffic depending on the quality of the content. Content can be anything whether it is a blog, YouTube Videos, Posters, landing page, and many more. Content marketing emphasizes education over selling to influence buying behavior.
Content marketing draws people through the funnel.
It helps to Grow brand visibility, credibility, and desirability.
It Aligns the target markets that is your Niche Market with relevant information.
Content can be in these different forms, as explained in mind map.
Read more on Neha Kataria blog.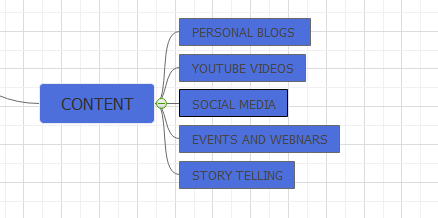 ATTAIN ATTENTION
It is important to bring the attention of your target customer to your content after creating it; Organically people do not come and see your content.
You have to advertise yourself.
You have to generate a Market. There are lots of wonderful books written but that all lost in the midst of some bestsellers.
You have to spend a little amount of money to bring the attention of the content in a huge amount but it's worth it depending upon the Return on Investment.
Attention can be attained through Traditional or Digital marketing.
Both the marketing has been described already.
In Traditional Marketing, An Author can use Print media ads, Television ads, Book launch Events, Visit book fairs, conducting Debates on certain topics, award functions all these types of advertisements give a recognition, attention and trust towards your personal brand. But somehow its way too costly.
In Digital marketing
There are different ways to bring attention to your content, some of them are:
Paid Adslike Google Ads, Bing Ads, Facebook Ads, LinkedIn Ads, and many more.
SEOhelp to bring organic traffic by improving the rankings of your page. Investment is not required in SEO.
Viral marketingis a kind of marketing through another platform that already has a huge amount of traffic beforehand and create shoutouts from many different individuals.
Book Reviews: Getting book reviews from existing reviewers online will generate a referral market.
Contests and giveaways: you can run various contests and giveaways to get attention.
Instagram, Facebook Live Interviews, open mics, and reels help in gaining attention.
Any other way of marketing can also be used to bring the attention of your target audience.
Digital marketing focuses on providing users with content they find valuable and want to share across their social networks, resulting in increased visibility and traffic.
TRUST BUILDING:
After collecting a huge amount of traffic on your content, you can generate leads from this traffic by building trust.
Trust can be built by replied them, mentoring them then hold the user, get attached.
Repetitive engagementscan be built by creating regular content on different digital channels. Those contents should bring engagements from your target customers.
Hook the user through subscribing to email lists, YouTube channels; retargeting the lead, or following your official social media platforms.
Social Proof of results that will benefit the customers is another way to build the trust of your target customers. 
TRANSACTION:
 Even if the target customers trust your business, they might not buy your product or service. You have to offer something, which is related to your niche and then this might lead to transactions. You provide personalized merchandise, or discounts and also set of your old books will generate sales.
Another way is to persuade the leads in order to make transactions and you can persuade them through social proof, through counselling, webinars which helps you to build mass trust.
Positive pressure and scarcity of the product create immediate call to action.
The revenue from this sales funnel can be used to build content and thus the sales funnel can be used again to gather more customers
The CATT funnel helps you to increase your brand trust along with sales and revenue.
 Conclusion:
Here in this article what I learned from digital Deepak sir and my own experience in the marketing and personal branding I tried to  describe each and everything.
Mr. Deepak Kanakraju is no1 Digital Marketer in India, having many companies along with a great personal brand-named Digital Deepak.
If you wa1nt to join the internship program of Digital Deepak sir, Here is the Link.
If you want to get people to apply for Batch 5, link to https://deepak.me/internapply 
Want to learn more do read the blog of ms Sakshi Banga
And also  what do  you want next in Digital marketing knowledge?
Here is an article on Digital  marketing by Ms Madhvi Joshi
Please do mention in Comments.